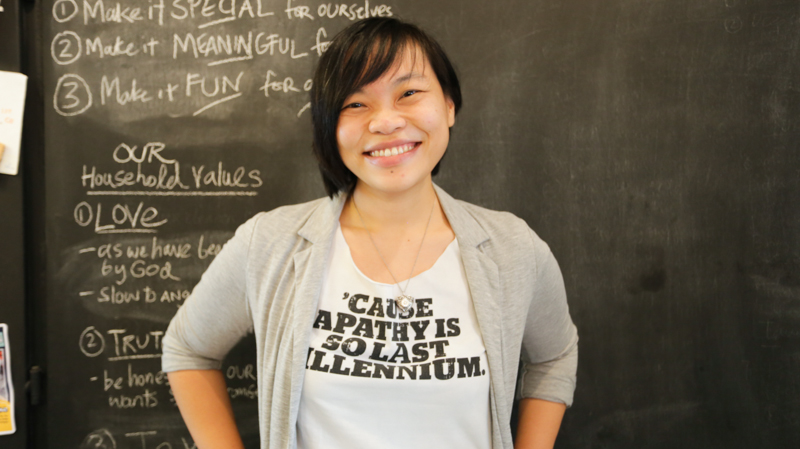 "Who cares if I get you the 'A'… and then you come out and have a fake idea of the world." – Kuik Shiao-Yin
Kuik Shiao-Yin is the co-founder and creative director of The Thought Collective. It is comprised of various companies – School of Thought, which offers tuition for General Paper and Language Arts; Food for Thought, a socially ethical restaurant chain and Think Tank, a branding and content curation agency.
She is also a two-term Nominated Member of Parliament (NMP).
All at the same time! Where does she find an extra 6 hours in her day?
School of Thought is celebrating it's 15th anniversary and is opening up limited slots for the general public to attend it's school lectures. They are also offering free trial classes for students so parents can take advantage of that offer. Apply here.
In this conversation, we spoke about:
Caveats to the advice on "following your passion"
A good teacher vs a great teacher
Experiences as a Nominated Member of Parliament (NMP)
and much more…
If you've only got 2 minutes, here's a short video on (Drugs, No! Prostitutes, No! Pirated Goods, Yes!)
I hope you enjoy this conversation with Shiao-Yin as much as I did recording it.


Scroll down for the link and show notes…
Show Notes
Kuik Shiao-Yin on her childhood [2:01]
What's on Shiao-Yin 'No' list these days? [06:04]
How does Shiao-Yin define 'Passion'? [09:08]
The evolution of Shiao-Yin's passion? [17:15]
Why did Shiao-Yin decide to leave her job as a creative director at Connected Machine Studios and Acmabook.com? [26:28]
Kuik Shiao-Yin on the most common mistakes of "following your passion"? [27:35]
Kuik Shiao-Yin on multiple passions [31:35]
Why did Shiao-Yin start the School of Thought? [32:46]
What is the marketing angle for the School of Thought? [37:21]
How is the teaching approach at School of Thought different from others'? [40:18]
What factors shaped the teaching method at the School of Thought? [49:41]
What is the difference between a good teacher and a great teacher? [55:37]
Kuik Shiao-Yin on the internship program at the School of Thought [58:29]
Were there any failures/tough times that set Shiao-Yin up for later success? [01:03:12]
Kuik Shiao-Yin shares struggles of running Food for Thought [01:04:31]
What are the qualities in her co-founders that Shiao-Yin most appreciates? [01:07:20]
What are Shiao-Yin's criteria when committing on the next project/ideas? [01:10:04]
Kuik Shiao-Yin shares her experiences as a Nominated Member of Parliament (NMP) [01:11:25]
What are Shiao-Yin's roles in The Thought Collective? [01:18:10]
Links Mentioned
Connect with Shiao-Yin:
Website | Facebook
Illicit by Moises Naim
Learn more about, Ontological Teaching
Strength Finder 2.0 by Tom Rath
Learn more about the classes offered at the Brave New World, The Thought Collective
Man's Search for Meaning by Viktor E. Frankl
Thanks for listening!
QUESTION(S) OF THE DAY: What are you willing to stake your life on? Please let me know in the comments.
If you enjoyed this episode, please share it using the social media buttons you see at the bottom of the post.
Also, please leave an honest review for Misfits Podcast on iTunes. Ratings and reviews are extremely helpful and greatly appreciated! They do matter in the rankings of the show, and I read each and everyone of them.
Special thanks to Kuik Shiao-Yin and her cat (special guest). Until next time!