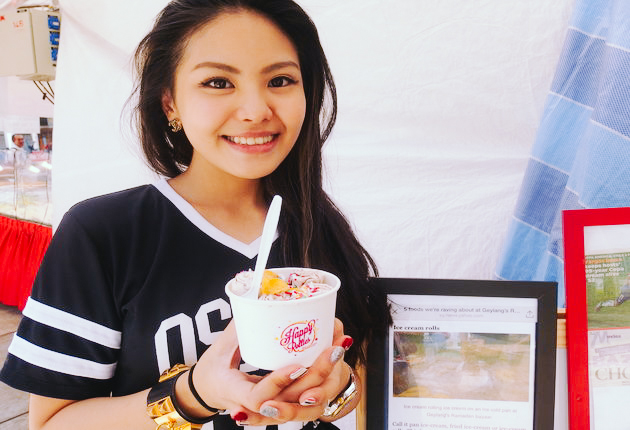 Gina Tow is the founder and owner of Happy Rollies. Happy Rollies was started in 2015 and has since grown from a humble flea market stall selling ice cream at Geylang Serai market to having 20 ice-cream carts and 2 mini-vans now.
Gina Tow has since developed other food items such as Churros, Watermelon Volcano, Toasted Smores and Cheese Chicken Cubes.
If you are heading down to Geylang Serai Bazaar this year, keep a look-out for her stall(s). She is cooking up some excitement for all of us.
In this conversation, we spoke about:
How Gina Tow earned 10K a month by trading second-hand luxury bags?
Gina's experience of being bullied in school
How Gina start a successful ice-cream cart business
If you've only got 2 minutes, here's a short video on (The Danger of your Job when it Shaped your Reality)


Click "continue reading" for the link and show notes…
---
This podcast is brought to you by Altizen. If you don't know already, research is concluding that sitting all day is terrible for you ("Sitting is the new smoking" is the new health phrase).  If you are like me, I went to Ikea and tried one of the self-cranking desk – it's not for me.
Altizen desk is a smart motorized workstation that transforms the tabletop into a healthy standing desk. It is also intelligent – it tracks and coaches you to develop this new habit with its sensors and smartphone app.  Models start at $1,349. Check out Alitizen.com to see which one might be right fit for you. If you decide to get one, quote "MISFITS" to get $400 off Altizen immediately! Offer is limited to the first 10 customers.
QUESTION(S) OF THE DAY: What was your favourite lesson from this episode? Please let me know in the comments.
Show Notes
Gina shares her story of how she bought and sold a BMW at the age of 21 [0:00:20]
How does Gina come to the goal of owning a BMW? [0:07:52]
Gina Tow describes her childhood [0:16:09]
Gina Tow shares experience of being bullied in school [0:21:29]
How did Gina Tow lose 25kg? [0:23:29]
Gina Tow shares about her suicidal experience [0:25:29]
Gina Tow shares the story of being proposed to during polytechnic days [0:32:42]
How did Gina start working in insurance while studying in polytechnic? [0:33:24]
How did Gina Tow start a second-hand luxury bag business, Happybagsg? [0:37:13]
How does one colour dye a branded bag? [0:42:39]
Why did Gina start Happy Rollies?[0:44:35]
How did Gina scale up Happy Rollies? [0:55:39]
Links Mentioned
Connect with Gina Tow:
Facebook | Instagram
HappyBagsg (Instagram)
Gina's BMW
Thanks for listening!
And if you have learnt any lesson with anything we talked about, I'd love for you to open up in the comments.
If you enjoyed this episode, please share it using the social media buttons you see at the bottom of the post.
Also, please leave an honest review for Misfits Podcast on iTunes. Ratings and reviews are extremely helpful and greatly appreciated! They do matter in the rankings of the show, and I read each and everyone of them.
Special thanks to Gina Tow. Hasta la vista, baby!