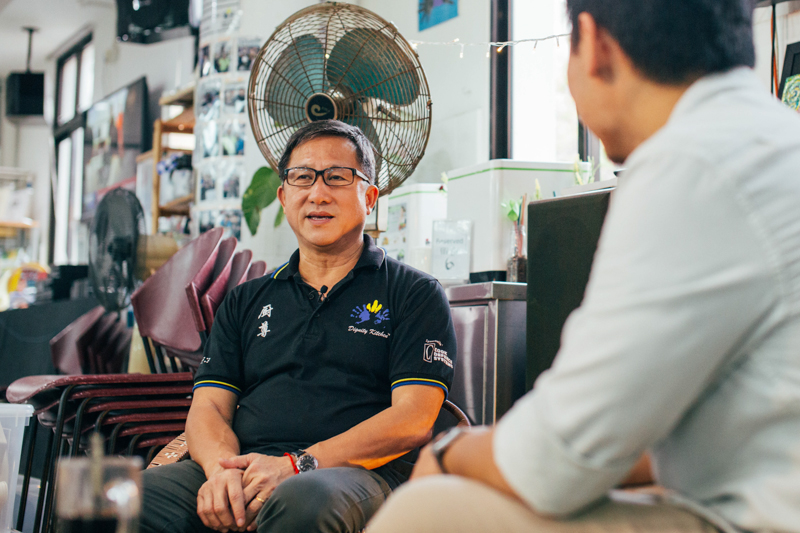 "Success is a satisfying state of the mind, failure is when you stop trying."
– Koh Seng Choon
Koh Seng Choon is the founder and managing director of Dignity Kitchen, Singapore's first hawker training centre for people with disabilities and the disadvantaged. Dignity Kitchen has trained over 400 individuals and successfully given job placements to all of them.
Project Dignity's mission is to build and return dignity to the disadvantaged and people with disabilities through vocation with passion. Under Project Dignity, it runs several other programs which including Dignity Mama Stall, Dignity Cottage, Lunch Treat for the Elderly and more.
Koh Seng Choon is also the author of 3 books – Elements of Success: Business, Elements of Success: Education and Elements of Success: Living. Elements of Success: Business is a best-seller in India.
Koh Seng Choon is the owner and management consultant of Christopher Benjamin Consultancy Services. 
On the side, he is a professor at SP Jain School of Global Management. 
In this conversation, we spoke about:
How Koh Seng Choon negotiated a scholarship with William Cook PLC
How Koh Seng Choon built a network in India in a record time
The difference of teaching entrepreneurship at Changi Prison and SP Jain school of management
and lots more
If you've only got 2 minutes, here's a short video on (Why Did A Chinese Man Gatecrash Indian Weddings?)


Click "continue reading" for the link and show notes…
QUESTION(S) OF THE DAY: What was your favourite quote or lesson from this episode? Please let me know in the comments.
Show Notes
Koh Seng Choon on his childhood [2:03]
How did Seng Choon secure his scholarship with William Cook? [5:26]
Koh Seng Choon on working in a steel foundry [10:59]
Koh Seng Choon on "buying and stripping" a company? [16:04]
Koh Seng Choon on starting his own consultancy firm, Christopher and Benjamin Consultancy [26:47]
Why did Seng Choon wrote the Elements of Success? [29:16]
Koh Seng Choon on conducting business in China [40:40]
Koh Seng Choon on building a network in India [46:34]
What is Koh Seng Choon's process for nurturing a contact after getting the name card? [52:43]
Koh Seng Choon on teaching entrepreneurship to inmates [58:43]
The origin story of Dignity Kitchen [1:02:44]
Why did Koh Seng Choon choose hawker food as a skill to teach people with disabilities? [1:03:58]
What is Koh Seng Choon's most difficult failure of Dignity Kitchen? [1:10:11]
What are the criteria to apply for Dignity Kitchen's program? [1:13:32]
How does Koh Seng Choon motivate his students to attend Dignity Kitchen's lessons? [1:17:32]
Koh Seng Choon on Dignity Cottage [1:23:55]
Links Mentioned
Connect with Koh Seng Choon, Project Dignity:
Website | YouTube | Twitter | Facebook | Instagram
Thanks for listening!
If you enjoyed this episode, please share it using the social media buttons you see at the bottom of the post.
Share your story in the comments.
Also, please leave an honest review for Misfits Podcast on iTunes. Ratings and reviews are extremely helpful and greatly appreciated! They do matter in the rankings of the show, and I read each and everyone of them.
Special thanks to Koh Seng Choon. Until next time!