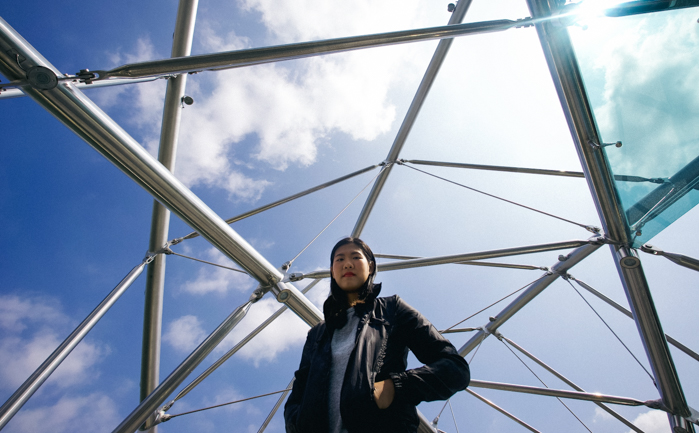 Annabelle Kwok, 25 is the founder of NeuralBay, an Artificial Intelligence company that specialises in vision analytics.
She consults for companies on A.I. driven solutions and was previously the founding CEO of SmartCow.
At 20, she travelled alone for 6 weeks in Togo, West Africa. She has witnessed people fainting from malaria, got robbed at knife-point, and balanced buckets of water on her head.
At 22, she met U.S. President Barack Obama under a youth programme representing Singapore.
Annabelle is a black-belt in Taekwondo, a licensed windsurfer, and an avid runner.
In this conversation, we spoke about
Why did Annabelle join the 10-day silent retreat, twice
Why she decided to run a marathon in North Korea
Her experiences travelling alone in Togo, West Africa
and much more!
I hope you enjoy this conversation as much as I did.


In 2018, I am getting my health in order. I have already lost 5kg in one month. If you have similar goals, and tried a bunch of diet and regime that didn't help. I want to work with you. I have enough time for 3 people at the moment to help achieve their health goals. The session would be free of charge, as I learning and testing things out.
I also ask that you only sign up if you are really ready to make some changes. I will motivate you and keep you accountable, but you'll get the most out of my time if we can spend the bulk of our time analysing what you've done and implementing changes.
If you are interested, please email me a little introduction of yourself and your goals. Amongst potential candidate who I think we are a good fit, I'll accept people first come first serve. Get in touch by emailing to ask [at] bryanvictor.com. 
Click "continue reading" for the link and show notes…
QUESTION(S) OF THE DAY: What was your favourite quote or lesson from this episode? Please let me know in the comments.
Show Notes
Annabelle shares her experience of sleep hacking [00:00]
Why did Annabelle decide to go to North Korea? [12:02]
The weirdest thing Annabelle bought on Fiverr [16:46]
Annabelle Kwok shares her holy trifecta of learning [18:36]
How does Annabelle Kwok define success? [31:26]
What made Annabelle decide to travel alone to Togo, Africa [37:39]
Annabelle Kwok on the joy of helping people [54:46]
Why did Annabelle decide to go on a 10-day silent retreat TWICE? [56:59]
Annabelle Kwok on friendship [01:16:59]
Annabelle Kwok shares her favourite failure [01:22:42]
Annabelle Kwok shares stories on her terrible Math's grades [01:35:16]
Annabelle Kwok on competitiveness in her life [01:40:23]
What is Annabelle afraid of? [01:41:35]
What has Annabelle Kwok got better at saying 'No' to? [01:55:57]
What are the new jobs that would emerge in AI? [02:01:07]
How much storage space does "AI" require? [02:16:01]
Annabelle shares resources on how can one learn more about AI? [02:24:02]
Annabelle Kwok on how to building a hardware business [02:26:52]
Links Mentioned
Connect with Annabelle Kwok:
Website | Twitter | Facebook | LinkedIn
Why do we buy roses on Valentines day
A rose on any other day by NPR
Pyongyang Marathon
The Reductive Seduction of Other People's Problems by Courtney Martin
Introduction to Artificial Intelligence and How To Get Started – Creative Crew Singapore
Google Vision API
TensorFlow
Thanks for listening!
And if you have any experience with anything we talked about, I'd love for you to open up in the comments.
If you enjoyed this episode, please share it using the social media buttons you see at the bottom of the post.
Share your story in the comments.
Also, please leave an honest review of Misfits Podcast on iTunes. Ratings and reviews are extremely helpful and greatly appreciated! They do matter in the rankings of the show, and I read each and every one of them.
Special thanks to Annabelle for the candid conversation. Until next time!